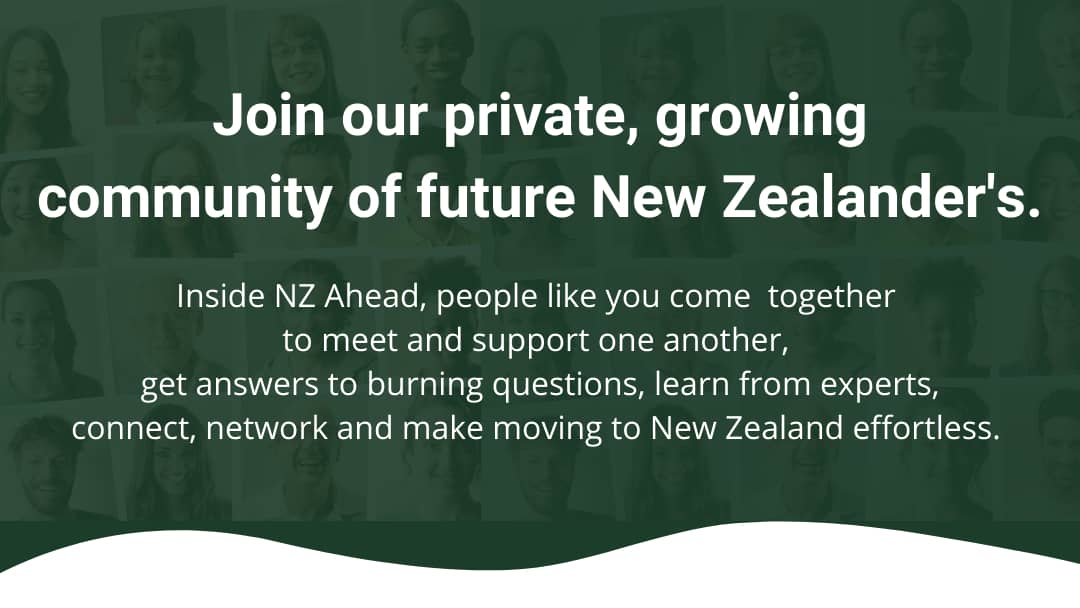 Join our private, growing community of future New Zealander's
Inside NZ Ahead Pro, people like you come together to meet and support one another, get answers to burning questions, learn from experts, connect, network and make moving to New Zealand effortless.
What do you need when moving to New Zealand?
(Other than a sense of adventure which you have covered!)
You need INFORMATION (lots of it)
You need ANSWERS (truthful ones)
But above all? You need SUPPORT.
We know this because we have been in your shoes.
And that is why we created:
The NZ Ahead Membership Package.
To make YOUR transition to NZ
a whole lot easier.
Become an NZ Ahead Member Now!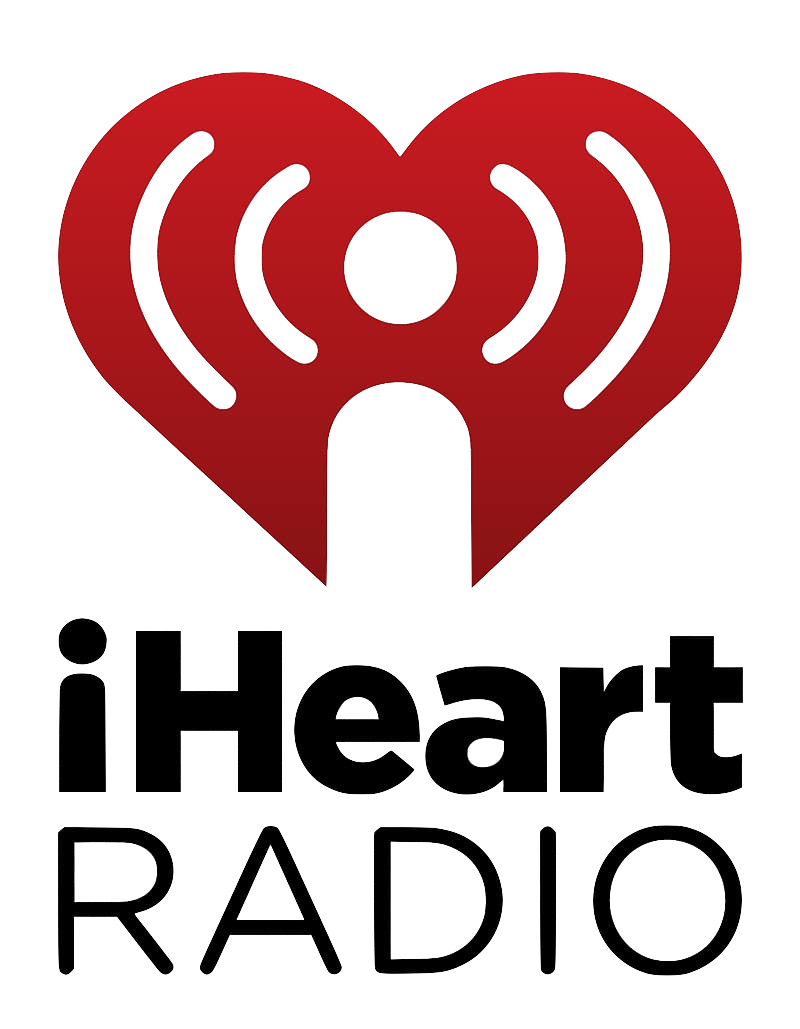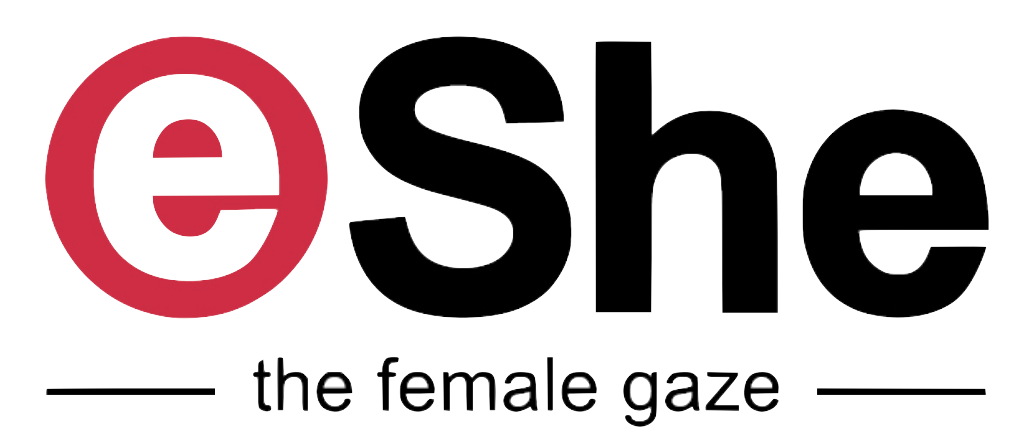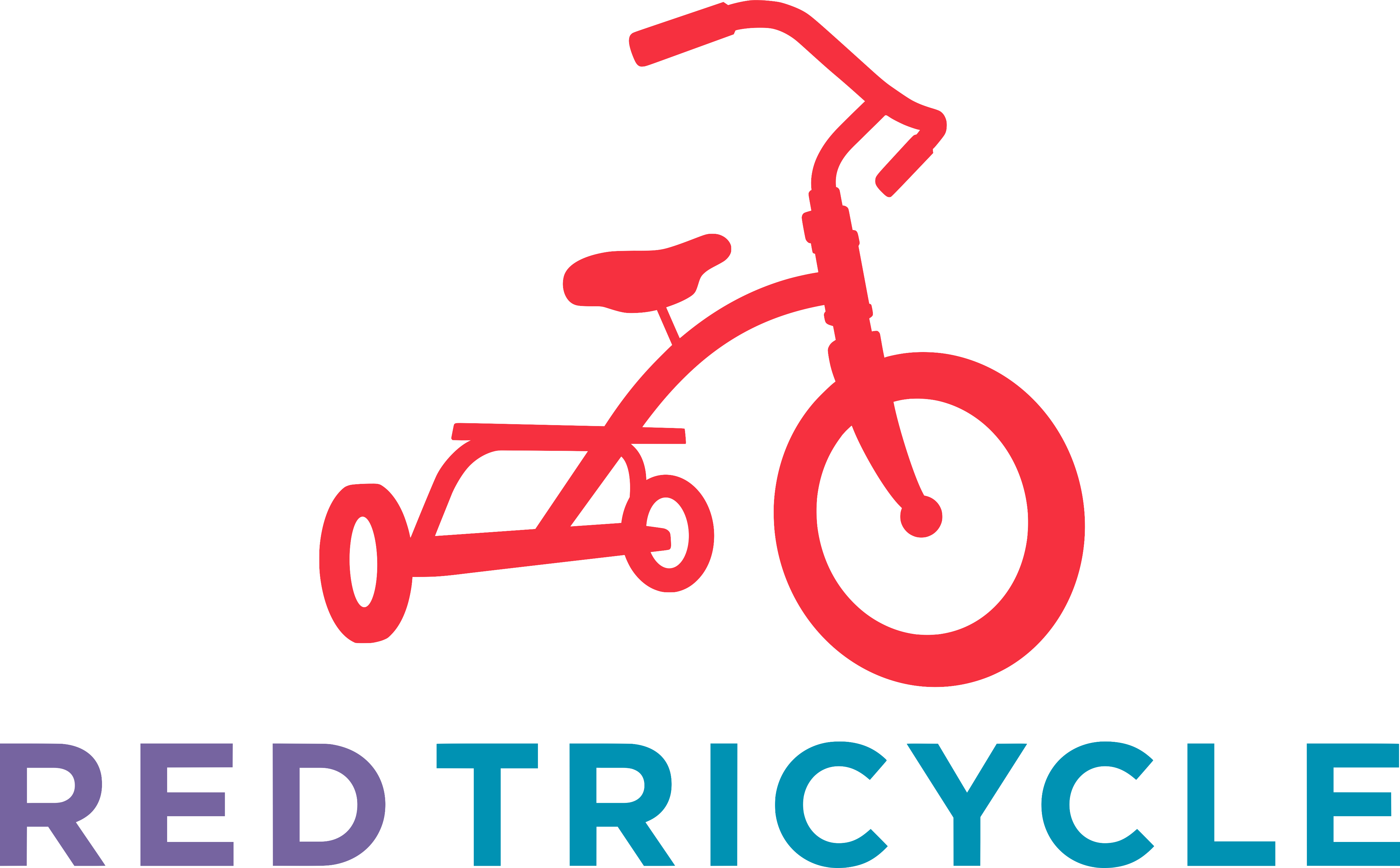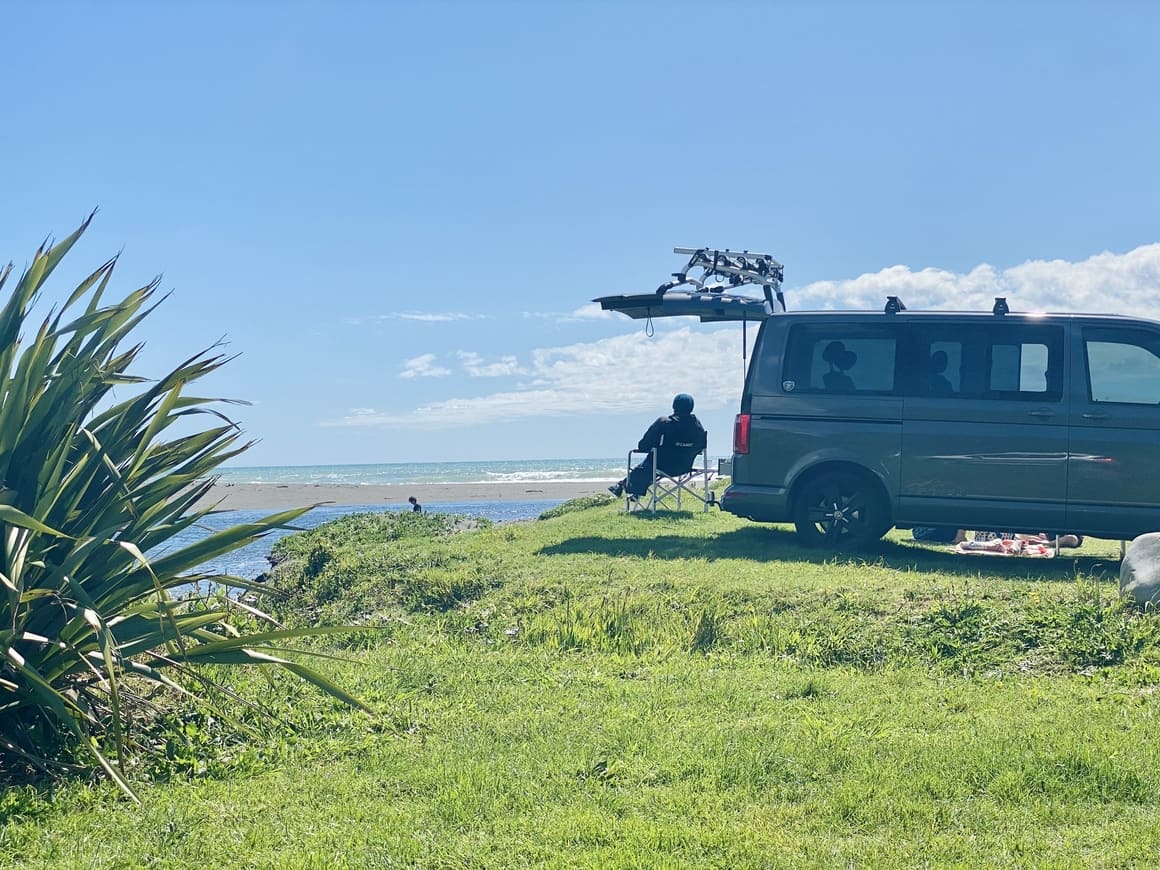 Hours of Unseen
New Zealand Videos
Covering…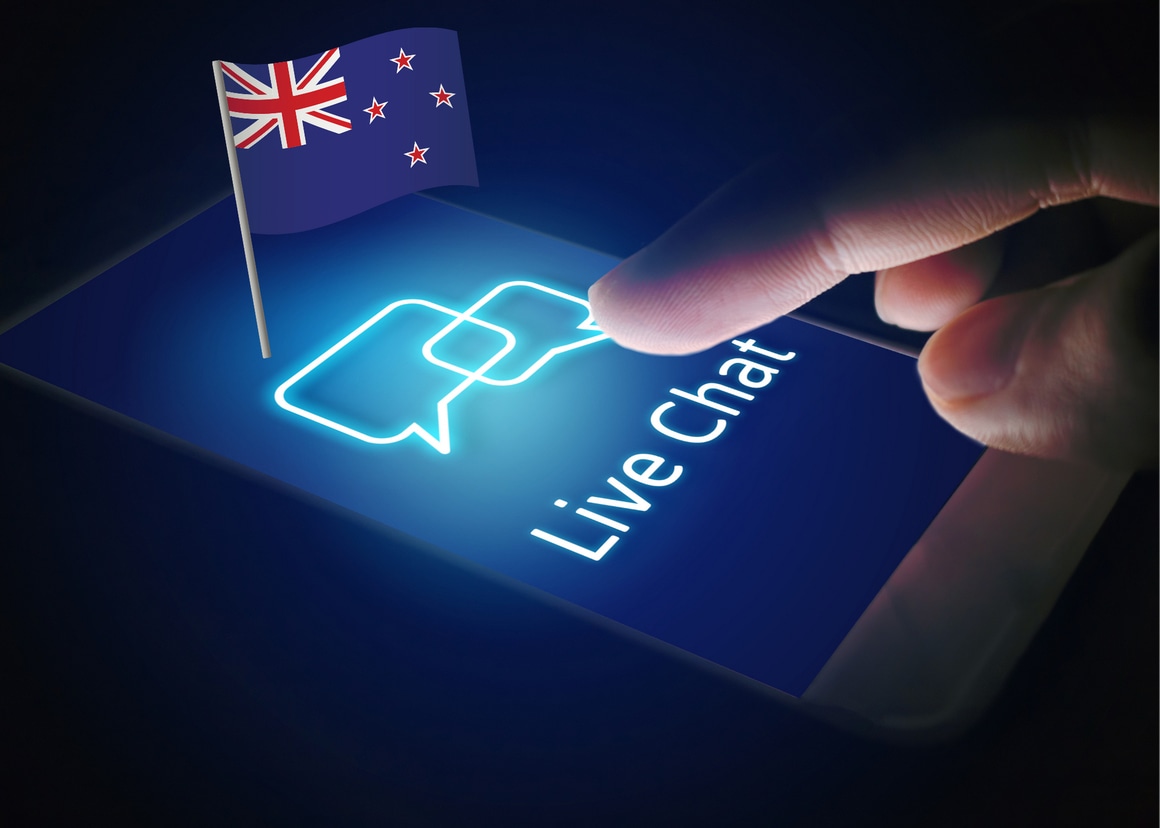 Gain instant access to our private community membership group (includes access to all past private podcasts & videos). 
Make friends with a community of like-minded people who will be by your side while making your plans to move to New Zealand.
Liz and Brian host this SAFE and friendly community and are here to hang out and answer your questions and help in any way that they can. Come and join us!
Below are a few of screenshots of the kind of conversations happening within our community!
This up-to-date super helpful information is JUST what you need when planning your big move. All provided within a small, friendly group of like-minded people.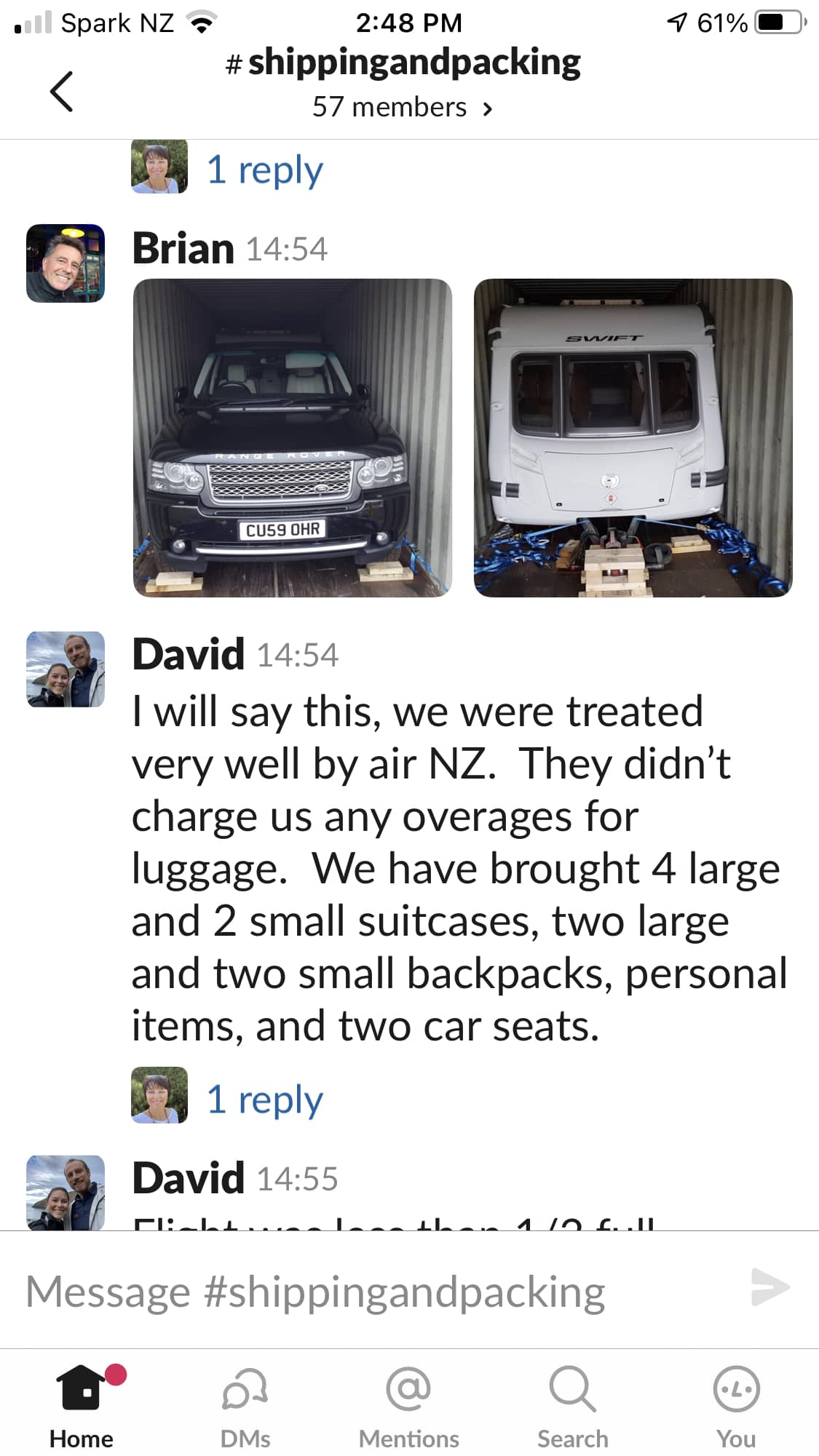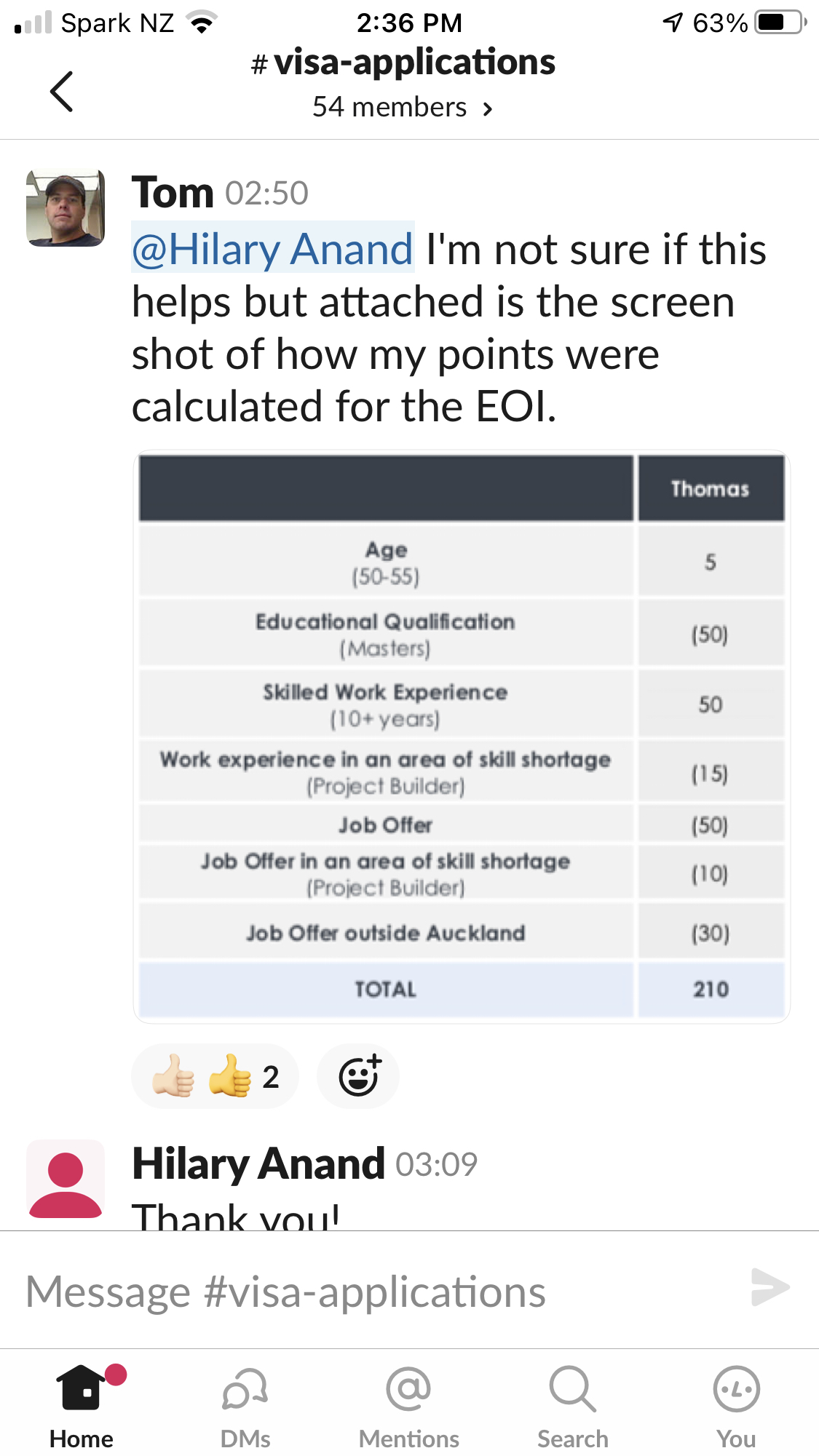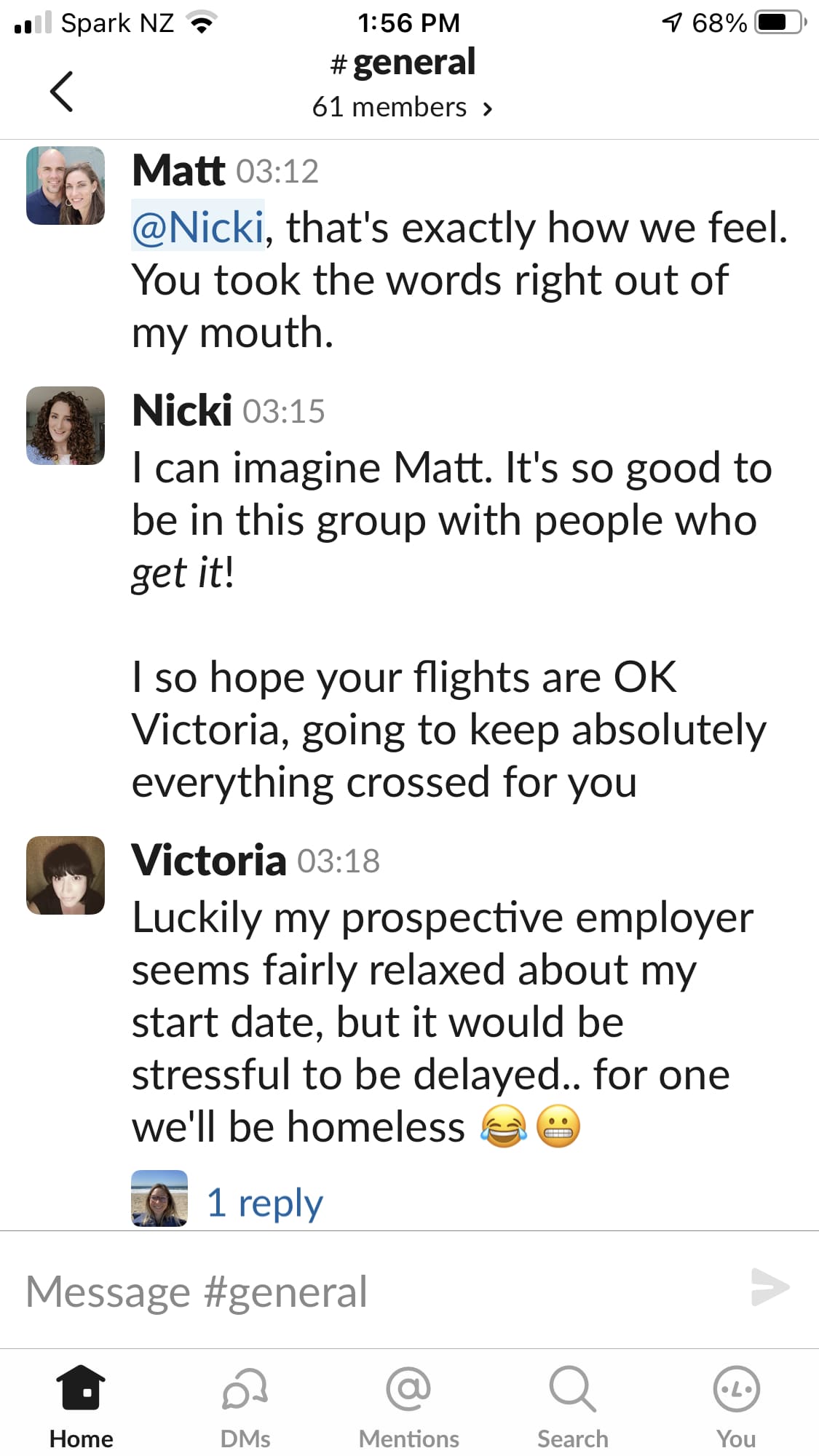 Get NZ Ahead Membership Now

✔️ Episode 1: Leaving family behind
The first episode of the NZ Ahead video guide had to be about this topic, which is (without a doubt) the hardest part about moving to New Zealand.
Leaving your family behind.
My guess is that you are leaving elderly parents and grandparents, sisters and brothers and possibly close friends that you have known since school.
But all is not lost.
In this video episode, we talk about how you can create positives that outweigh those (very hard) negatives.
We discuss in depth the things that will make that heart-wrenching decision not only easier but also very exciting for everyone!
By then end of this video, your family and friends will be as excited as you are about New Zealand!
✔️ Episode 2: Schools in New Zealand
If you are moving to New Zealand with children then you will be desperate to know more about the New Zealand school system.
In this series, we take an in-depth tour of a typical New Zealand primary and intermediate school and talk about the differences between schools here in New Zealand compared to elsewhere in the world.
This is the perfect series for those planning on raising a family here in New Zealand and would love to be able to tell (and show) the kids to expect!
✔️ Episode 3: Food in New Zealand
If you are a foodie (and let's face it, who isn't?!) then you will be curious about the foods in New Zealand. 
We all know that Italy has the best pasta and pizza and France has amazing cheese but there is very little information out there as to what New Zealand offers in the way of food.
In this series, we explore every kind of food available in New Zealand, we take a tour of some busy food markets and dive deep into the world of New Zealand foods covering everything from fish to ice-cream.
Be prepared to have your mouth water!
✔️ Episode 4: Cafés in New Zealand
I am sure you have already heard that New Zealand wears the crown for the country with amazing coffee, but what about the café culture?
In this episode, you will take a tour of  a variety of New Zealand cafés, discover what you can expect from and be told a few truths (that you wouldn't know unless you lived here!) about eating out in New Zealand!  
✔️ Episode 5: Camping & The Great Outdoors
The outdoor lifestyle is one of the winning factors when deciding to emigrate to New Zealand, but do the kiwi's really spend most weekends in a tent?
And will it be possible for you to enjoy the New Zealand great outdoors if you live in a city and don't have much money?
In this series, we explore the three major camping options available to you when you live in New Zealand.
Join us for a tour of some typical New Zealand campsites around the country and let us share with you how camping will be a huge part of your life down under, regardless of where you live or how much money you have!
✔️ Episode 6: Healthcare in New Zealand
This in-depth series will arm you with everything you need to know about the New Zealand healthcare system.
Entering into a brand new (and unfamiliar) healthcare system can be scary.
You will have questions, worries and concerns that need answering.
Stand by, you are going to love this series.
In this episode, we share everything from the costs of prescriptions, having a smear, to emergency ambulance call-outs.
You will join us as we show you around the inside of a doctors surgery and take you on a tour of a typical city hospital both inside and out.
By the end of this series, you will no longer worry about the New Zealand healthcare system that awaits you – we promise!
✔️Episode 7: Driving in New Zealand
Are you ready to take a drive around New Zealand, both South Island and North?
If you are moving to New Zealand from a left-hand drive country then you may have concerns.
This in-depth episode covers everything you need to know about driving in New Zealand from the laws to the unspoken kiwi driving habits.
You will explore mountain passes, highways and busy inner-city streets, meaning that by the end of this series, you will know everything you need to feel confident about driving in New Zealand.
Buckle up!
✔️ Episode 8: Grocery Stores in New Zealand
Unless you can afford to eat out every night then grocery shopping will be a regular part of your life here in New Zealand.
Grocery shopping will be a huge part of your life in New Zealand but what are the supermarkets like and will you be able to get your favourite delicacies from home?
Let's find out exactly what you can expect from New Zealand when shopping for food.
✔️ Episode 9: What to bring (& what not to bring ) when you move to to New Zealand
What to bring with you when you move to New Zealand?
Is it worth bringing the sofa or should you buy one when you get here? 
What about the lawnmower? Will you be stopped at customs?
Will it save you money on shipping if you leave everything behind or will you be shocked at the prices of things in New Zealand?
This episode is probably our most popular as it sees Brian dive deep into what you should and shouldn't bring!
Brian takes you on a tour of various household stores and compares prices on electrical goods, kitchen appliances and power tools.
After this episode, so you will know exactly what to bring and what to leave behind!
✔️Episode 10: Water safety in New Zealand
New Zealand is surrounded by water and your life here will no doubt involve some sort of water activity.
In this video, we cover everything from sharks to keeping your kids safe in the water – an invaluable insight into living on an island surrounded by the wet stuff!
✔️ Episode 11: Tramping/Lifestyle in New Zealand
New Zealander's love to tramp, (kiwi talk for a hike), so what better way to introduce you to your new life than to take you on a brisk tramp through New Zealand bush!
In this video, Brian and Liz talk candidly about a common aspect of New Zealand lifestyle and how it will affect you and your outlook on life.
Get your walking boots on!
✔️ Episode 12: Where to live in New Zealand
City or town? This is a private video podcast for members only. 
In this video, Liz and Brian talk about the cities and towns around the North Island & South Island?  
Join us as we take an in-depth look at 12 popular cities and give our honest opinion on each of them.
✔️ Episode 13: What to do with your property back home
Rent your house snd then rent in New Zealand? sell your house and cut all ties? 
In this episode we discuss the different options you have when moving to New Zealand and talk to you about two very different experiences that happened to us and how it worked out.
✔️ Episode 14: How safe is New Zealand
A private podcast discussing why New Zealand has been voted 2nd safest country in the world to live.
✔️ FAQ About New Zealand
No question about moving to New Zealand is too small when making such a mammoth move as the one you are thinking of doing.
So I have added this section to the end of the guide to answer the many questions that people email us about.
I can only imagine that it will grow to some size before too long!
So far, we have made videos answering questions such as: 'Is there really road rage in NZ?'
'What kind of jobs could I expect to get in NZ?'
'What is the weather like in summer vs winter'.
'Will I be able to find a decent hairdresser??'
The list goes on!
Keep the questions coming and we will answer them to help everyone 🙂
✔️ Episode 16: Cities in New Zealand
Let's get serious and look at some facts and figures, pros and cons of each major city in New Zealand!
✔️Your Very Own Private Community Group
This is probably the most valuable resource of all…support!
Once you purchase the guide you will join our inner circle of community members.
Here you will make friends, swap stories and support each other in your quest to move to New Zealand.
The group is made up of people just like yourself who are determined to make their dream of moving to New Zealand a reality.
Some members of our group are in the planning stages and are enjoying the inside tips that make the process smoother.
Others have already moved to New Zealand and share everything from shipping costs to getting a job with their friends who are patiently waiting on the other side.
These new immigrants are sharing their adventures and giving tips along the way!
Become a member of this community and you will get the connections that you need right here in New Zealand
A priceless Bonus!
✔️ BONUS! Monthly Members Only Private Podcast/Video
Private, unreleased podcast episodes about New Zealand uploaded every  month Including:
1: Teenagers, parties, drugs in New Zealand
2: Our first year in New Zealand. Challenges.
3: New Zealand people. What we say and what we mean.
4: The Sadder Side of New Zealand. How The Country Copes With Tragedies.
5: Community members Katie and David talk about life in Dunedin, NZ compared to life in California.
6: Community member Benjamin talks about life in Auckland, NZ compared to life in France and the Uk.
7: A private podcast with māori friends discussing NZ culture, humour, and lots more!
Become an NZ Ahead Member Now!

Because of you and this community, I now have lifelong friends here in NZ . Thank you for being you and for creating a safe space for people!
The idea of relocating to New Zealand appealed to me back in 2006 when I met a Kiwi businessman on an 8-hour long flight from Miami to Frankfurt.
I recall being in awe hearing him talk about the Kiwi way of life and I couldn't stop thinking about New Zealand ever since. So I went on and did my own research, yet to my greatest disappointment, I couldn't find anything helpful and, after some time, my enthusiasm took a nosedive.
It wasn't until recently when I discovered a Youtube video posted by Liz and Brian where they talked about whether NZ is a good place to raise a family, that I felt inspired to resume my pursuits.
Liz and Brian's positive energy, sparkling sense of humor, and contagious enthusiasm kept me engaged at all times leaving me craving for more new videos. Liz and Brian have a very honest and unbiased way of sharing information which makes the video context objective and easily applicable in a real-life situation – something that, I feel, is nearly impossible to extract from tons of other videos available online.
I became a member of the NZ Ahead private online NZ community which is filled with like-minded people who is either already living and working in NZ or at the early stages of their immigration process.
I feel that I've discovered a new group of friends who are willing to help in any way possible and always have my back.
Without a doubt, this community has played a key role in my decision to move forward with immigrating to New Zealand. Moving to a new country is a stressful process indeed, however, I feel confident because I have a new family who supports me in all my endeavours and a wealth of knowledge that prepared me well for the upcoming new chapter in my life. Thank you, Liz and Brian – you have lifelong friends who stand 100% behind everything that you do. I thank you from the bottom of my heart for everything that you and Brian are doing – it's truly is life-changing.
I have thoroughly enjoyed your 5-day video guide and I am now in the process of integrating into the wonderful NZ Ahead Community.
It is so lovely to chat with like-minded people about a common passion, and Liz & Bri are definitely very present there – as promised.
Many, many years will pass before I'll be able to make the big leap and I hope the whole NZ Ahead experience will join me for the whole trip.
Kia pai to ra,
This year has been so hard, we've been waiting and waiting for the news that borders will open for so long and it feels like it's never going to happen at the moment.
We live in Manchester which is one of the places that have been under the harshest restrictions the longest in the UK.
Your podcasts, videos and now this brilliant membership community have honestly kept me going the last 4 weeks – so I just wanted you to both know that I'm emailing to say thanks and that I think the fact that I carried on listening even after hearing Brian was a Liverpool fan 😂 (my husband is a Utd fan and I've been an Everton season ticket holder my whole life) speaks to just how much we enjoy this community, ha! Brilliant value for money!
I have just finished watching the final video in my NZ Ahead pack and I just wanted to say how very informative and helpful it was!
It answered so many of my little questions and told me things I didn't even know about. I am hoping to join my daughter and grandchildren in 2022.
I am addicted to our Slack group! I can't believe that I have been able to make friends with so many people going through the same as me. Because of you Liz and Brian I will now have a ready-made group of friends when I come to New Zealand! Why doesn't everyone know about this??!
Thank You so, so much for creating this… New Zealand here we come!
Liz and Brian have opened up their lives and their hearts by showcasing the beauty of the  New Zealand lifestyle. Their videos that you get as part of the NZ Ahead membership will take you to their favourite cafes, restaurants, beaches and even the medical clinic they go to. They are authentic New Zealanders who will soon become your new best friends. Thank you, Liz and Brian!
 I still feel humbled that I have met this great bunch of people! A couple that works in the same profession and shares the dream! Our dream started about 10 years ago.
We visited NZ, while I lived there before, it felt like coming home for us. But life took its pace, we got kids.. made progress in our careers and bought a house. So far… we were opting for a stable life… feeling the process was too expensive and difficult. However, I did keep watching YouTube videos. It's a drama quickly became a personal favourite. We decided to take the free (we dutchies love free 🙂 5-day video guide and then we became NZ Ahead Members and got the access to the private slack group . There we met the people I've described earlier!
Finding them to be nice, helpful and loving life in New Zealand. Although there is half a world between us Maile & Katie promoted Dunners. And Maile even helped promo me as a nurse!  She who put in a great word for me. And now, at this moment we are looking forward to actually meeting this great bunch of people!Cheers!Kia ora Kia Kaha!
I have thoroughly enjoyed the 'its a drama' content and being part of this supportive community. Truly authentic. It makes everything so familiar and less lonely. Thank you so much for creating this community. I'm still going through all the hashtags in Slack and you know what? There is nothing new under the sun….Answers to all my questions. It's a great forum and thank you again!
We can't thank Liz & Brian for creating the NZ Ahead membership community enough.
I had listened to all of Liz's podcasts and Youtube but this was even better. 
The icing on the cake is the Slack community. I have been able to see answers to so many issues, talk to others who are in the same boat and feel 100% supported. If you are moving to New Zealand and are reading this, do NOT hesitate to become a member! You won't regret it!
We discovered Liz and Brian on YouTube in a video where Liz is showing how the grocery stores look like in NZ. After watching that video we were super excited and went straight away to there website.
We read all their stories on their website and were even more excited!
First we take the 5 free video's which we all watched in one go. If you are really planning to make a move to NZ then this is videos you want to see. Small things about real life you won't find easy on YouTube.
After this, we get the offer for membership and get their videos from different subjects of moving and living in NZ. This has been our best investment about NZ so far
because they go really deep in all the subjects and there is a community of supportive people in the same boat as us. It's been joyful,  but more important, really informative and helpful!
Thanks a lot, Liz and Brian! Hope to see you soon in real life!
Liz and Brian's NZ Ahead membership is just great.
What I like about it is that it shows things that anyone who would like to live in New Zealand really wants to know! It's 'nitty-gritty', personal info transcends any content I have seen before.
Also, the biggest plus for me, is that Liz and Brian genuinely interact with their audience in the Slack group! They are open to any question and help people interested in moving to New Zealand find each other. Thank you Liz and Brian for making this possible!
I want you to know that your videos, podcasts and membership community are all so very encouraging. My husband and I have been researching and planning for over a year now.
We watch your videos to look for realistic information about day-to-day living in New Zealand. Most of all, you have encouraged us to keep going and keep trying even when the road bumps seem too tough. We recently watched the video about packing and we were most impressed by the way that you squeezed the Caravan into the shipping container. What an amazing feat!
Thanks for all of your help and for creating this safe, warm and welcoming slack community. I will highly recommend NZ Ahead to anyone looking for real information about New Zealand!
Chur!
Liz & Brian have done it again!
Fantastic video course with lots of in-depth information on day-to-day living in New Zealand. I would highly recommend for anyone serious about moving and wanting more information other than just where to go bungee jumping 🙂
Liz combines her many years of living in New Zealand + her experience as an immigrant to bring an honest and in-depth look into what life is really like in New Zealand.
I don't know how to thank you guys…why on EARTH doesn't everyone know about the NZ Ahead group when moving to NZ??!
What can we say about Liz & Brian's NZ Ahead Pro???  Only that it's absolutely wonderful, informative, and so comforting.
We have been planning this move from the US for over a year now and we're nearing the end. 
We've had so many emotions along the way and most recently we're terrified, but also
equally excited. 
Are we really doing the right thing?!
  Snatching our kids away from their grandparents…are we
mad
?!
Liz & Brian's video on leaving family behind was extremely reassuring and helped put our minds at ease: We're doing this for our kids and for our own sanity. Thank you Liz, Brian, and family for sharing your life and adventures and for going mad before we did so we can continue to feel sane!  Highly recommend anyone considering moving to New Zealand become a member of this fantastic space!   You'll never see me leave Hahah!
Quarterly Membership
NZ Ahead Pro
12 plus hours of up to date, relevant life in New Zealand Videos

Access to the private Slack community with over 30 channels + Access to Liz, Brian, and support from our team

Exclusive  member-only New Zealand content

3 Month Access
Yearly Membership
NZ Ahead Pro
12 plus hours of up to date, relevant life in New Zealand Videos

Access to the private Slack community with over 30 channels + Access to Liz, Brian, and support from our team

Exclusive  member-only New Zealand content

Yearly Access
Lifetime Membership
NZ Ahead Pro
12 plus hours of up to date, relevant life in New Zealand Videos

Access to the private Slack community with over 30 channels + Access to Liz, Brian, and support from our team

Exclusive  member-only New Zealand content

Lifetime Access
Is there a cost to join the the NZ Ahead Membership?
Yes. Our member pricing starts at  $29/month. Members can cancel their subscriptions at any time. All prices are in USD.
How do I pay?
We offer both credit card and Paypal options.
You mentioned something called Slack. What is that?
Slack is how you will connect with Brian, Liz and your fellow New Zealand Calling members.
Slack is a channel based messaging platform that you can use on your phone or computer.  It's super quick and we all get to talk in real-time. It is a free to install.
We have over thirty different channels within our Slack group covering everything from immigration advice (from our specialist advisors New Zealand Shores),  to channels about schools, jobs, pets, health care and much, much more. 
Am I limited to how many times I can watch the videos?
No. Absolutely not! Once you have the guide you can watch the series back as many times as you like (until you get to New Zealand and see it all for yourself!)
Do you offer a money back guarantee?
Due to the nature of this digital guide, we are unable to offer refunds so please be certain that you really want to become a member of our New Zealand community before you purchase!
However… because we know how hard it is to buy things online and because we are 100% confident that you are going to LOVE being a member of the  New Zealand Calling club, we will say this:
If within 30 days of purchasing your membership, participating in the community and consuming the entire video series and podcasts you are disappointed with your guide and STILL don't feel as though you have been shown what life is like in New Zealand then we will gladly refund your money.
Simply send us an email and let us know your thoughts and we will return your payment.
It doesn't get better than that does it?!
Become an NZ Ahead Member Now!